RPAC
---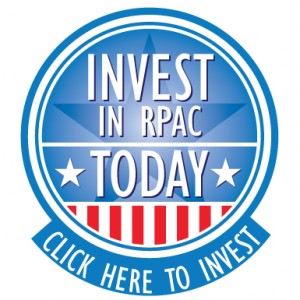 RPAC
RPAC is a non-partisan, self-supporting committee organized for the specific purpose of supporting candidates and ballot issues at the local, state and national levels. The fundraising subcommittee is responsible for raising the money that enables RPAC to be effective. With our pooled resources, we can contribute to the campaign of candidates who support REALTOR® positions. We can also contribute to organizations supporting or opposing a ballot issue.  30% of all RPAC funds are contributed to the national RPAC to be used at the Federal level and 70% is used at the local level to support candidates and laws that advocate for property rights and home ownership. Nebraska RPAC is strictly regulated by the Nebraska Accountability and Disclosure Commission.
2016 RPAC Investments
GOAL: $65,000 and 55% participation
____________________________________
The REALTOR® Party
The REALTOR® Party is a powerful alliance of REALTORS® and REALTOR® Associations working to protect and promote home ownership and property investment. The REALTOR® Party speaks with one voice to advance candidates and public policies that build strong communities and promote a vibrant business environment.
Now more than ever, it is critical for REALTORS® across America to come together and speak with one voice about the stability a sound and dynamic real estate market brings to our communities. From city hall to the state house to the U.S. Capitol, our elected officials are making decisions that have a huge impact on the bottom line of REALTORS® and their customers. Through the support of REALTORS® like you, the REALTOR® Party represents your interests.
____________________________________
THE REALTOR® PARTY APP
Where will you be when you get the Call for Action?
You can be anywhere because the new REALTOR® Action Center mobile app contains a host of features to help you VOTE, ACT and INVEST on to go:
Mobile Advocacy: Receive a notification alerting you whenever there is a new Call for Action. The new mobile alert format will make participation a snap. No forms to fill out. Short, fast and easy!
Mobile Investing: Make your annual investment via your phone. Now there is no excuse to not invest in RPAC!
Action Profiles: The app contains a summary of your REALTOR® Party engagement. A list of open action items, actions you have already taken.
Advocacy Reports: Track how your state and local associations are doing in terms of their advocacy efforts to help us reach our annual 15% goal.
REALTOR® Party Tracker: Learn how your state and local association are using NAR programs to build political strength in your own backyard. Find out what tools and programs NAR is providing your association and how much money those programs cost.
____________________________________
The REALTOR® Party Tracker
If you've ever wondered where your RPAC investment is going–the REALTOR® Party Tracker is the National Association of REALTORS® (NAR) tool to allow members to see how State and local REALTOR® associations across the country are using REALTOR® Party resources. With the REALTOR® Party tracker, members see the resources provided by NAR, to local and State REALTOR® associations. It also shows what is being used to improve State and local legislative and advocacy activities!
______________________________________
Invest in RPAC and Invest in Your Business!
The REALTORS® Political Action Committee (RPAC) has a proud history of being one of the most powerful advocacy organizations in America. Throughout its decades-long history, RPAC has leveraged the grassroots power of the NATIONAL ASSOCIATION OF REALTORS® to advance property ownership and the free enterprise system. RPAC has been tremendously successful in this noble quest.
However, the cost of making the collective voice of our association's one million members heard at the National, State and Local levels grew dramatically with the Citizens United vs. Federal Election Commission Supreme Court ruling in 2010. Now that unlimited soft dollars can be used when communicating with the public to influence voter opinions, competing in today's new political landscape is more challenging – and expensive – than ever.
Invest and RPAC today and invest in your business and yourself!